Functioning rotary die-cutting

Rotary die-cutting is used to process material webs or sheets and mainly offers the advantage of a high processing speed and precise dimensional accuracy.
A tool pair consisting of a cutting tool and an anvil cylinder is required. The anvil cylinder provides the necessary counter pressure for the cutting tool to cut the material with the desired result. The blade of the cutting tool compresses the material until it separates. The cutting tool and the material web move at the same speed in the process.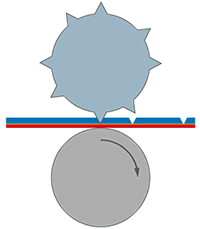 Cutting unit
For precise work, the tool pair consisting of cutting tool and anvil cylinder is mounted in a solid cutting station.
The required cutting pressure is built up in the cutting unit. The resilient construction ensures a smooth and stable manufacturing process.
Cutting depth
The height of the cutting tool blade is manufactured precisely to the micron in order to separate the material exactly to the required depth. Different cutting heights can be used in one tool.
Do you have a certain material and are not sure whether it can be rotary die-cut? Or would you like to know whether your end product can be produced in rotary processing? We will be happy to advise you.