PowerBridge
Predefined cutting pressure at the push of a button
With the PowerBridge the cutting pressure can be switched on and off pneumatically and absolutely reproducibly at the push of a button.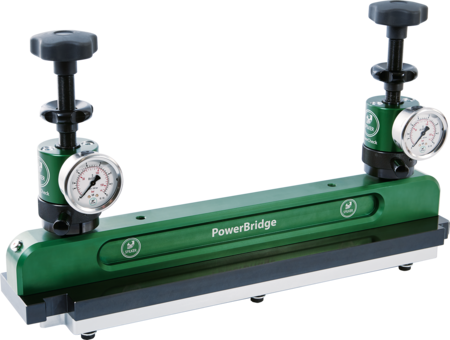 Thanks to the compact and at the same time very robust construction the PowerBridge functions without susceptible mechanical lever components and can be used in all cutting stations which are customary in this industry.

The contact pressure is set as usual with the pressure spindles and read off with Spilker PowerCheck or a standard display unit.
Level 1: Locked with full cutting pressure – cuts
The cutting pressure can be adjusted in an optimum way with Spilker PowerCheck for perfect cutting results.
Level 2: The gears remain in mesh, material can be moved
For an easy and safe handling during the sorting out of cutting edges, material unevenness or material that got caught.
Level 3: Gears completely separated, the cylinder is freely rotatable
Time-saving for the change of flexible dies and for the cleaning of the cylinders. A direct manual register setting is possible and provides for less material waste.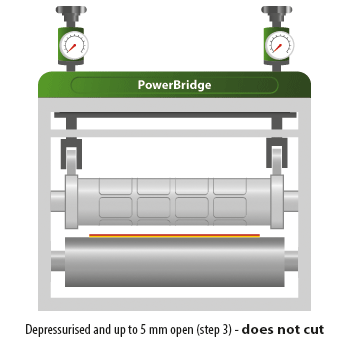 Pneumatically reproducible cutting pressure
Minimisation of tool wear
Exact calibration with fine thread spindles
Protection of the drive components
Easy installation, even with rapid spindle adjustment