PowerCheck
Optimal cutting pressure – accurate and reproducible
Spilker PowerCheck pressure gauges are a helpful addition which your cutting unit should not be without.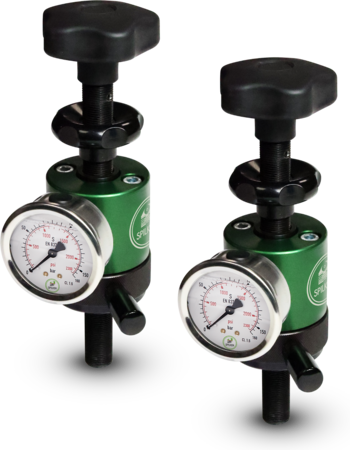 Unregulated cutting pressure – whether too low or too high – is a chief cause of high tool wear and inferior cutting results.

With Spilker PowerCheck the cutting pressure can be precisely read off and adjusted. Sensitive force sensors transmit the applied pressure to analog display meters separately for each side. The values with the best results can consequently be reproduced for repeat orders.

The compact and robust construction with both sided cutting pressure display is not only very precise but also extremely space saving. With the unique threaded coupling the pressure spindle can be quickly adjusted with just one hand movement.
Version
Incl. rapid spindle adjustment
Force measuring range
0 – 8 kN or 0 – 20 kN
Ø threaded spindle
M16 x 1
M16 x 1,5
M20 x 1,5
Further diameters on request
Exact calibration with fine thread spindles
Minimisation of tool wear
Protection of drive components
Easy installation, even with rapid spindle adjustment